Fire vs. Stove

To waste, to destroy, our natural resources, to skin and exhaust the land instead of using it so as to increase its usefulness, will result in undermining in the days of our children the very prosperity which we ought by right to hand down to them amplified.
Theodore Roosevelt
Campfires are not evil. One of the Leave No Trace principles is to minimize campfire impact, but not to eliminate all campfires. There are many situations where a campfire is a more responsible way to cook than using a backpacking stove. Actually, this is the root of an ongoing debate - which is better for the world, wood fires or stoves?

The main objections for wood fires are that they:
consume scarce wood resources
reduce biomass in an area that is needed to support the habitat
cause wildfires
take longer to cook food
get pots and utensils and food dirty
leave scars on the ground, killing patches of organic soil
Conversely, the common reasons for using backpacking stoves are that they:
do not impact habitat, leave biomass as it is
cook quickly and cleanly
Now, if that were the whole picture, it's and easy choice to always use a stove. But, it's important to step back and take a wider view. What really goes into a wood fire and into a stove fire? What are the real expenses and impacts?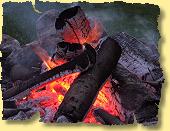 When I make a wood fire, I use the following:
a match - the production of this match consumed some resources elsewhere in the world. It was then shipped to the store and I bought it. I actually bought a box of matches so I have all the equipment I need to start hundreds of fires. I might use a lighter instead which has a small amount of liquid fuel, some plastic and metal parts.
wood - I gather twigs, sticks, and small fallen branches. These are all renewable. They were produced by a completely natural process. I did not need to carry them.
A wood fire costs virtually no money, requires me to carry no equipment, and has nearly no impact outside of the actual fire site.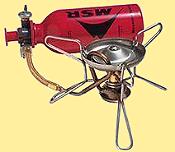 When I use a backpacking stove, I use the following:
a match - same as for a wood fire
the stove - a precision manufactured metal, plastic, and paint piece of equipment. This consumed quite a bit of resources to produce and ship. It also cost significant money. It should last for many years.
fuel - this is fossil fuel, a non-renewable resource. The production and shipping of this fuel had a significant impact elsewhere in the world and costs me money. Fuels are usually white gas, propane, or kerosene.
fuel container - I can use a refillable fuel bottle so I only consume fuel and minimal packaging. Or, I can use fuel canisters which get discarded when empty. Either way, this is more waste I'm creating.
A backpacking stove is an excellent way to prevent fire impacts in the local wilderness where you are exploring. They are also much easier, faster, and cleaner than a wood fire. But, in the grand scheme, stoves contribute more waste than a simple camp fire. A person sincerely interested in minimizing his impact on the world needs to consider the trade-offs.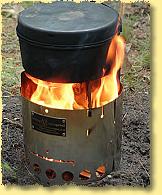 There are still other alternatives to consider.
wood stoves - Rather than simply building a fire on the ground, there are now wood-burning camp stoves available, such as the LittlBug. These stoves are easily-stored metal containers in which you burn wood with your cooking pot sitting on top. They efficiently consume the wood and effectively heat your food. Some of them include a fan to provide increased airflow, higher temperatures, and more complete burning of fuel. With a pan under them, they leave no ash on the ground.
alcohol stoves - Often home-made from soda cans, these stoves are used by lightweight backpackers. They are good for small jobs like heating a pint of water and they weigh practically nothing. They are inefficient so a relatively heavier load of fuel needs to be carried. But, they are simple and burn a non-fossil fuel.
solid fuel stoves - the only weight is the fuel so these are great for heating water and keeping your pack weight down. The fuel is expensive, but safe. They are good for a single camper needing to heat water.
From my viewpoint, these are times when a backpacking stove should be used and no open fires should be lit:
in an area with specific 'No Fire' regulations in effect
in an area with sparce wood to burn, whether from natural environment or over-use; such as desert, alpine, and beach areas
during windy conditions when an open fire would pose a wildfire risk
when you will not have time to enjoy the fire and burn it out; leaving large partially-burned limbs
Otherwise, having a fire for entertainment or cooking is part of the camping experience. Use the
Campfire Impact
advice and enjoy a safe, minimal impact fire.
Leave No Trace - or even LESS trace

Find more Leave No Trace Resources at www.LeaveNoTraceDude.com